The Cook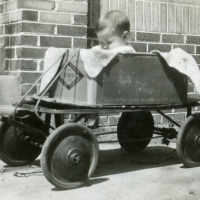 131joyce
Denver, CO
Taste-o-Meter
131joyce's recipes haven't caught on yet
About Me
I am a newly retired paraprofessional elementary school teacher by day and take care of my 99 year old sister at night. We are both again, living in the house where I was born ,raised, married and raised my family. -----
-----

I like trying new recipes, especially those that may appeal to my sister who needs more nutrition but doesn't like to eat. It is an everyday battle so I try different things all the time. ----------

Although I am not on-line very often, my daughter, LoveBreezy, will tell me of recipes she finds here that may be of interest to me. I'm amazed at the variety of recipes on this site. ----------

Many have so nicely commented on my avatar. That is a photo of me in front of our home. It was taken just a few short years ago.
Read more
My Latest Recipes 0
Oh my. I have no recipes. :\