The Cook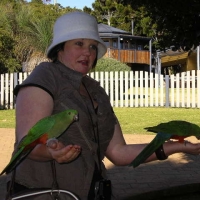 2muchmuffintop
Ashburton, NZ
Taste-o-Meter
People LOVE 2muchmuffintop's recipes.
About Me
Kiaora to the cooking world. I would have to say im the most basic,creative,SHOCKING, and messist cook in the world i do give cooking a try i get a little outreagous some times putting anthing that smells yumy in a pot to se wot
happens. I grew up on bread and spuds lol so i cn do anything wif a potato. a few years ago out drinking i discoved im alergic to coconut milk it wasnt a pretty sight lol. Hopefully i will turn in 2 a deasnt cook one day ill keep trying any way.

to the daring ppl willing to try my recipes GOODLUCK...
Read more