The Cook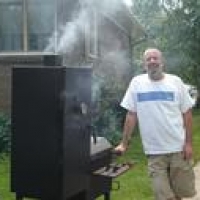 77mini
Buffalo, NY
Taste-o-Meter
People LOVE 77mini's recipes.
About Me
First off, my name is John but the 77mini refers to my car.
Besides the wife and kids I have 2 things I am passionate about.
Obviously the first is food. I was a baker in my early years and even did my sisters wedding cake
that fed 300. What a hoot! Since I worked nights, I used the cooking skills my mother and grandmothers taught me so I could eat "normal" meals at my abnormal times.

My second obsession is the TV show LOST (wife would argue it's first). I have gone so far to search the internet to create a LOST cook book where all the main ingredients are found on the show. Sad...

Most of my kitchen has come from restaurant supply on internet and auctions at defunct restaurants. Pans Calphilon Non-Stick and All-Clad, wok from WOKSHOP.com (awesome place).

Specialty is Smoked BBQ (pulled pork, brisket, ribs) but have done small to medium sized catering jobs up to 220 people.

Hope to meet a few more obsessed souls like me here.
Read more