The Cook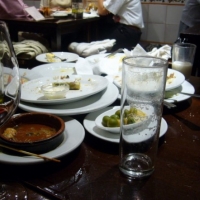 a_fuego_lento
New York, ES
Taste-o-Meter
People generally enjoy a_fuego_lento's recipes.
About Me
Growing up in an Italian-American, New Jersey home outside of NYC, I spent the formative years of my cooking career next to my mom, watching her every move, listening intently on how to enjoy what so many see as a mundane chore. A
fter working in various caterers, cafes, and gourmet markets, I branched out and started experimenting with the flavors that my college city, Chicago, had to offer. In other words, heavy on the Mexican and Indian. Nothin' like homemade enchiladas or a masala to get your night started!

A year in Barcelona taught me to savor every last drop of a tomato, to be generous with garlic and olive oil, and that anchovies aren't, after all, the worst things in the world...as long as you know how to use 'em! A few years in NYC and a few in Madrid have also added to my culinary adventures. I'll try just about any recipe, from any corner of the world, though I'm more of a savory foodie than a sweet tooth. I let my sister take care of that.
Read more