The Cook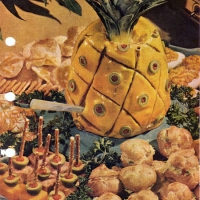 abermouse
Louisville, KY
Taste-o-Meter
People LOVE abermouse's recipes.
About Me
I worked in restaurants and catering from age 13 to 26 before joining the IT industry.. I make Hawaiian quilts, enjoy reading, traveling and pets. I have a baby girl named Josie and a wonderful man named Jameson who is the one of
the best cooks I've ever met. Maybe soon I can post some of his recipes, except he is what I would call an 'Impressionist' at the stove. Everything is made to order and unique. He is a genius.
Read more
My Latest Recipes 44
This is a chili recipe I developed that won in a cook-off in 2009. I call it Google Chili because I reviewed tons of recipes and f...

I came up with this recipe based off a gluten free / low carb version of salmon patties..but I added my own flavors. I've made sal...

Simple recipe for pulled pork tacos, you can dress them however you want but the pork is the perfect texture and flavor. I include...

Sonia Mendez Garcia posted this on http://www.hispanickitchen.com and its a unique recipe , I could not resist storing it here...f...

My friend Paul Manke and his family lived in San Miguel Mexico, and it is one of my favorite towns in the world, full of culture a...

My Dad loves rice pudding and I've made different ones over the years, all of them great...but he also loves rum raisin ice cream....