The Cook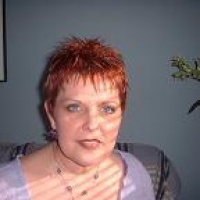 adivagurl
Nashville, TN
Taste-o-Meter
People generally enjoy adivagurl's recipes.
About Me
mother of two, nana to three. i own a home in nashville and my mom who has Alzheimer's and my brother live with me. So we cook A LOT! I'm known for my ONE TIME only recipes. I make things up as i go and never remember what I did.
I have so many friends and family asking me to write my recipes down and write a cookbook. I thought maybe I would do this and actually stick to it. I write a column for Examiner.com as the Nashville Comfort Food Examiner. Please visit my page at http://tinyurl.com/comfortfoodnash and I am also the Nashville Baking Examiner at http://bit.ly/NashvilleBaking please visit all my pages for original recipes! Make sure to click subscribe at the top of my page to enter your email address to receive free email alerts when I write a new article/recipe! You won't get any spam from it! This year, I'm focusing on turning all my Comfort Food and Baking recipes into healthy but still delicious recipes so we can all live healthier and LONGER lives! Please leave comments at the bottom of my pages that you found me through Group Recipes just so I'll know! I hope to see you all soon! Oh... I will makeover any of your favorite recipes and make them healthier too! And if you have any original recipes or food photos and I use them, I will make sure to put you as the author or photographer! Then you can send the article to all your friends and you will be famous! I really hope to see you all soon!


Read more
My Followers
My Latest Recipes 1
Baked chicken made richer by the addition of a sauce enriched with fire roasted tomatoes. The fire roasting process gives them a d...