The Cook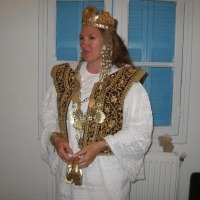 anatunez
La Marsa, TN
Taste-o-Meter
People LOVE anatunez's recipes.
About Me
Hi friends! I have 3 children and a Portuguese husband - so LOTS of cookin' around here!! I also have 2 big doggies who just love leftovers (or meals cooked just for them, too!) my beautiful black cat also loves getting in on the
chow action!
Read more
My Latest Recipes 10
A great salad for potlucks or dinner buffets. Can be made vegan or vegetarian, otherwise add "lardon" (thick cubes of French bacon...

The Northern African spicy paste called for in many recipes. Kept in the fridge can be used for a month or so... keep enough olive...

My children and all the neighbour kids LOVE this easy cake. The orange blossom water gives it a very subtle and delicate fragrance...

This is the authentic way to may Gratin Dauphinois - and boy, is it good! I make this to go with a nice Sunday dinner with friends...

The most amazing recipe I have ever come across for a perfect impress your friends lemon curd (to be used as you wish : lemon meri...

A great accompaniment for my chicken tajine....