The Cook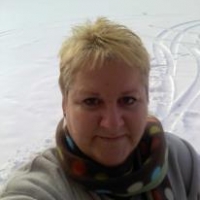 annette092964
Logansport, U.S.A.
Taste-o-Meter
People LOVE annette092964's recipes.
About Me
6wks outta spinal surgery n doin great!!1.. anyway... here I am again... finally taking time to write a couple lines. Still in Logansport, Indiana, Just had my 49th birthday yesterday. Found me a man that is out of this world. Loo
king at living together soon. But only 1 draw back.. I only get to see him 3 days out of a month :( UNLESS.... I go on the road with him :) I'm looking forward to that.. but not the 21-25 days out each month. Anyway.. I'm still cooking for the Emmaus Mission, "homeless center". Making some new recipes of my own, sparking some interests in the kitchen who want to learn some new tips n such. I have 1 young fella that loves to be by my side when cooking.. he said he picks up so many short cuts but the "no measuring cup" measuring has him baffled lol Anyway.. Everyone have a great October and Thanksgiving is just around the corner. I'll be back to toss some recipes in.. Blessings to all!!
Read more