The Cook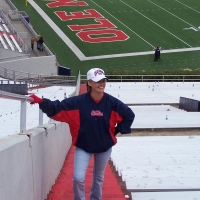 annieoakley63
Columbia, TN
Taste-o-Meter
People LOVE annieoakley63's recipes.
About Me
I'm a 44 year old Harley ridin' grandmother, 3 grown daughters, 2 granddaughters and 2 grandsons. I learned to cook as soon as I could see the top of the stove. I was raised in the country in rural Mississippi and we only went
to the grocery store when it was necessary. I grew up drinking REAL cows milk, getting my veggies from a garden and eating meat that my Dad killed. I'm "grown up" now and have moved away from my home state, but I'm still not far removed from how I was raised.

I enjoy singing, reading murder mysteries and watching Ole Miss Football when I'm not working or riding my motorcycle. I'm involved with the Patriot Guard Riders and am the Director of our local CMT/ABATE Charter.

Riding and cooking are my means of relaxation and I love to cook for others. At the tender age of 42 I earned my lifetime rank blackbelt in karate.
Read more