The Cook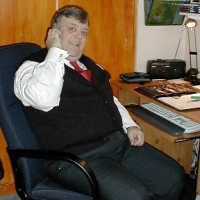 astrochef
London, GB
Taste-o-Meter
People are ADDICTED to astrochef's recipes!
About Me
We are John & Maureen Glen, both 56 years old and have been married for 35 years, We have lived, worked and kept each other company for most of that time.
For over 10 years we worked for Lord and Lady Hanson here in the UK at The
ir townhouse in London and country cottage in Berkshire and in Palm Springs, California I was Chef & Butler and Maureen was Senior Housekeeper.
Why "Astrochef" and "Lancashire Molly"? Well my name at school gave me the nickname Astro and being a chef I just put the two together as for Lancashire Molly, Molly became a personal name for Maureen and as she comes from Lancashire aI used to joke about Maureen and her sisters (all five of them) as being the Lancashire Witches, consequently she became "Lancashire Molly"!!

In 1978 I was elected to the Institute of Master Chefs

My hobbies include photography and in 1986 I was elected to the Royal Photographic Society, I am also involved in the study of genealogy and social history and in 1980 was proposed and elected to the Society of Genealogists. In the pursuit of genealogy I use a computer to manage a database of some three thousand names and 100 families.

My Other Interests Include:
Food and Drink, Reading, Music, Movies, Photography, Genealogy, and Walking in and around London.

For Lord Hanson's 70th birthday in Palm Springs I cooked (believe it or not) Lancashire Hotpot for about 50 guests which included Michael Caine, Roger Moore, Kirk Douglas and so many more, and every time a dinner party was coming up everyone asked for it.

My inspiration comes from Chefs such as;
Albert & Michelle Roux they taught me so much, from the UK comes Rick Stein, Elizabeth David, and Brian Cotterill, from Europe my heroes are Paul Bocuse, and Pierre Gagnaire, and from the USA there James Beard, Paul Prudhomme, and Martin Yan, Tim Cushman, Thomas Keller and Sue Zemanick
Read more
My Latest Recipes 52
A bright and scrumptious way to dish up carrots shimmering in butter and dazzling green parsley, a Chantenay carrot (see notes) is...

Ooh, these are easily the most excellent when it comes to mushy peas for "Fish 'n' Chips" The peas used should be the dri...

In France, this dish is known as Quiche aux Poireaux avec Lardons, The leeks and bacon filling of this quiche produces a flavourso...

This promptly became a firm favourite with guests at Norwood West even though Lord Hanson wasn't fond of it he would sometimes h...

A very tasty burger made with sweet succulent lamb and served on a homemade bun and a tangy cucumber relish. We had these last ni...

This was one of Lady Hanson's favourites when she had a mild curry...
My Groups