The Cook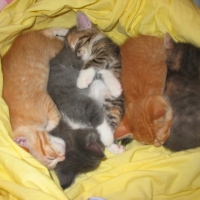 auntiedeb
BREMEN, GA
Taste-o-Meter
People LOVE auntiedeb's recipes.
About Me
WELL I'M 37 YEARS OLD. I'M SINGLE. I LIVE WITH MY PARENTS. MY TWO NIECES CAME AND LIVED WITH US AFTER THEIR MOM (MY SISTER) PASSED AWAY. SO I SPEND MY DAYS TAKING CARE OF MY SICK MOM AND TWO NIECES. I HOME SCHOOL MY NIECES. WE LOV
E TO WATCH FOOD NETWORK TOGETHER. WE ATTTEND CHURCH EVERY SUNDAY. I STARTED GOING WHEN I WAS 10. MY NIECES HAVE GONE SINCE THEY'VE WERE 1 WEEK OLD. WE LOVE IT. IT'S WHAT WE DO.
WELL THAT'S A LITTLE ABOUT ME. HOPE TO YOU HAVE A GREAT DAY.
THANK YOU AND GOD BLESS.
Read more
My Followers