The Cook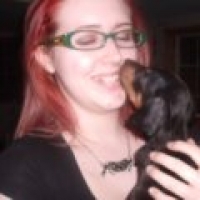 awasteofcoffee
Kansas City, MO
Taste-o-Meter
awasteofcoffee's recipes haven't caught on yet
About Me
To be honest, I'm a terrible cook. I know a pretty good amount about cooking, I just in general suck at it. It's been said that I could burn water. But I love food, so I keep on cooking, and occasionally I'll even make something e
dible! :)

My favorite things to bake (and often screw up) is cookies, but I enjoy cooking actual meals too.

I have a Doberman Pinscher puppy named Gabriel. That's him in the picture licking me at 8 weeks old. Now hes around 11 weeks, so he's a little bigger, braver, and he just got his ears cropped, so definitely crabbier.

I'm 18. Female, obviously. My main "occupation" is writing, although I'm still working on the getting things published part. I'm going to school next year to become an EMT.
Read more
My Latest Recipes 0
Oh my. I have no recipes. :\
My Groups