The Cook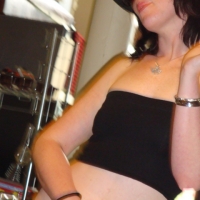 beautifultang
Lincoln Park, MI
Taste-o-Meter
People LOVE beautifultang's recipes.
About Me
I've been cooking for as long as I could reach the stove... though ofcourse it wasn't the *best* food I've ever made back then, hah!
I remember one time, I was probably about 8 years old, my mom was at work and I wanted to mak
e dinner! So I took a steak out of the freezer, cut it up, put it in a pan, added water and some vegetables... but that's when things started to go terribly wrong. I tasted it - it didn't taste right.... hmmm... what does the 8 year old mind do? ADD SPICES! I think just about every spice in the cupboard went into the water, I distinctly remember cloves being used - and when I came to the Cream of Tartar I thought it would be neat if I could make it a cream soup! (are you laughing yet?) My "steak soup" was an obvious failure, but creative for being that age.

I've went to culinary school, though I've not completed my degree... never say never! My culinary teacher was one of the most amazing people I've ever met in my life and still to this day I use the knowledge she taught me. Thank you Ms. Flowerday!!
I think my favorite type of foods to make are probably comfort foods... soups.. cookies.. meatloafs.. anything that makes you feel all warm inside - especially in the cold Michigan snow.
When I was a bit older than the "soup" experience, I wrote a cook book. I think I may have been 10 or so. I'm going to have to find that. As soon as I do, I will post the recipes - just for shits and giggles.


update(7-10-08): Ok, so I found the cook book. I was so excited upon finding it that I started crying. Jeez... what a girl!
I'm going to get to the recipes soon.

Ok... Who's hungry?
Read more