The Cook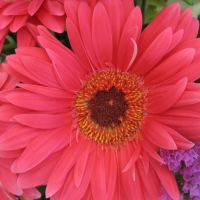 becsta
Auckland, NZ
Taste-o-Meter
People generally enjoy becsta's recipes.
About Me
I am an ex- vegetarian - a phase which started with rebelling against my mother (& mince on toast) at 17....but now over 15 years later fish have swam back into my diet.....and my mum is now an excellent vegetarian cook! What bei
ng veggie taught me is that you don't need meat and that creativity in the kitchen is good for your mind and your health! I love growing my own veggies and herbs. I can't cook without garlic. I usually don't' use recipes per se. I think that might be the case for loads of people on this site. I read recipes for ideas and then make it up as I go along. I don't have confidence baking (seems a bit too much like chemistry - one wrong move and cake batter could coast every surface of your oven). I try the odd cake when I have forgotten someone's birthday & it always turns out better than I expected. I like walking home from work and dreaming up dinner from what I recall is in the fridge and what's in the garden. I work 40 hours a week and live with my partner of 7 years who loves food but cooks alot slower than me and works a lot longer hours....so my favourite are healthy and tasty and quick quick QUICK to prepare! I like to have people over for dinner. I am always trying to reduce the bad stuff in food and still ensure it tastes the same (or better!).
Read more
My Latest Recipes 3
My brother made this in world record time one night. It's delicious but make sure you like anchovy (a sustainable fish) as it is ...

Becs Easy Dahl from becsta in Auckland, NZ.

I have looked for a dahl recipe for ages that comes somewhere close to a restaurant one. I practised this for ages and I think it...

These patties are very easy to prepare after work for a flash appetizer or make them bigger and serve as the main dish with a big ...