The Cook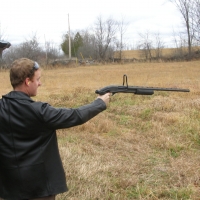 bejamminr
Ottawa, CA
Taste-o-Meter
People generally enjoy bejamminr's recipes.
About Me
I am not a foodie. I do like food, though! Some of my friends describe me as the "did you know?" guy, or as a rugged wilderness-conquering outdoorsman, neither of which are true - Although I do know too much trivia and I have been
known to enjoy wild game. I've grown up a farmboy in southern Ontario, Canada - that has shaped my attitudes towards food and drink. I don't generally like "synthetic" foods, but I'm not militant about it - I'll eat pretty much what's put in front of me if it's free. ;-)

I look forward to gathering recipes and honing my elite cooking skills in my travels through this site. Join me in my quest!
Read more