The Cook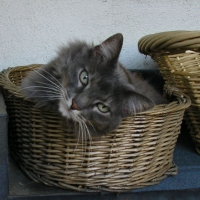 binky67
Ellicott City, MD
Taste-o-Meter
People LOVE binky67's recipes.
About Me
First off, dont be afraid to try the recipes I post here due to my self proclaimed Beginner status LOL, I promise that these are not mine. They are all from tried and true cooks/chefs. Although I'm passionate about Wanting to cook
, I dont or cant cook very well. Something about cooking (I mean really cooking) a meal has always intimidated me but I'm trying to get over this now. I'm the biggest Food Network Junkie and have collected 1000's of recipes over the years but have tried very few honestly. Hopefully with all these easy yummy recipes to be found here, I'll finally get over that hump and start cooking. I've spent many years in Frankfurt Germany (I'm half German, half African American), been to India before (had the BEST Chinese food while in India, OMG!) and love to try different foods from around the world.
Read more