The Cook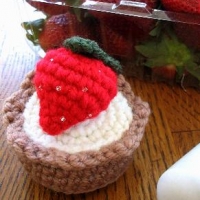 bittersweet
CT
Taste-o-Meter
People generally enjoy bittersweet's recipes.
About Me
Having been vegan for about three years now, absolutely everything I make excludes animal products. In earlier years, this seemed to imply that I would be doomed to a future of nothing but inedible muffins that could double as doo
r stops, but with time and practice my abilities to create delicious baked goods improved. Now I feel as though there is close to nothing that can't be recreated without dairy or eggs. In my opinion, there should be nothing that makes vegan food any more or less inherently tasty than the alternative anyway - It all comes down to the same basic ingredients to contribute flavor, making it a simple matter of how you choose utilize them. That's why I will never accept the response that something is "good for vegan food;" Perfectionist that I am, I will continue working at a recipe until it is delicious in its own right. Feeding other people makes me happier than anything else, so I try very hard to make things that everyone can enjoy, trying my hand recently at more diabetic and/or wheat-free recipes as well.

My very first cookbook, My Sweet Vegan, is currently printing and will be out on shelves this fall!
Read more