The Cook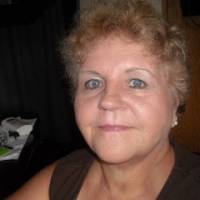 bluewaterandsand
GAFFNEY, SC
Taste-o-Meter
People are ADDICTED to bluewaterandsand's recipes!
About Me
I am a good old Southern country cook. I love to cook and I love it when my family and friends, love what I cook. I am a mother of two daughters and grandmother of three. I am a Poet. Have had a couple of poems, published.I a
m just a plain old woman who loves to write! I do not work due to Disabilities.Heart problems, Diabetes, COPD and Multple Sclerosis. I just keep going and won't give up. I am back with my exhusband after being Divorced for 16 years! We have a little dog, her name is Maddie. She's spoiled rotten! I am a 'happy and easy going' person ! I just Live, 'One Day At A Time'. Some days I have a bad day and can not type well due to my fingers being numb and tingling so I may not comment on recipes everyday.. I love all kinds of food. Love to eat them and love to cook them. But with my health problems, I have to watch what I eat, these days. It's heck to get old,lol.
Read more