The Cook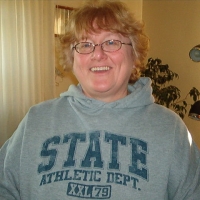 bobbijo
Wayland, IA
Taste-o-Meter
People are ADDICTED to bobbijo's recipes!
About Me
Hi everyone....My name is Barb but have been called Bobbi most of my life. I am married to my husband J.C. and have 3 fantastic daughters. I am a grandma to 5 grandsons and 2 grandaughters. They love to stay with us whenever th
ey can cause "Grandma can cook anything we want " or as the youngest grandson says, "Gamma is the bestest cooker. I have been cooking since I was a little girl and had the best teachers in the world. My Mom and my Grandma B. When holidays come around I love to host dinners at our home as cooking is one of my passions and especially for lots of people. We go camping alot in the summer so I get to do some of my cooking over an open fire. This is when I get to try out new ideas with food on family and friends. I also have my own daycare business, so I'm busy cooking for all my kids. They especially love it when they get to help me decorate cupcakes and cookies. They always manage to sample a few before the others.
Read more