The Cook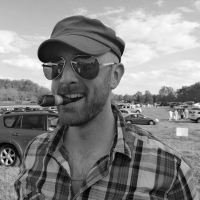 broadside
Richmond, VA
Taste-o-Meter
People LOVE broadside's recipes.
About Me
It started mostly with starting small, manageable fires in my mother's kitchen at a young age. I hadn't had much experience "cooking" outside of heating up soup from a can and doctoring it up to become palatable. I turned into a f
oodie after I had to spend an extended time in a hospital, suffering their nasty food. I have since accepted quality food as my craft, though I am constantly learning. Goodbye condensed soup. Hello avocado and fried eggs with caviar!



Read more
My Latest Recipes 7
My secret weapon for tailgating or just about any gathering of friends where food is enjoyed. The trouble is, they start as friend...

Never again will I have Alfredo sauce, when I could be having this stuff. The sage and carrots combine to make a slightly sweet an...

My Welsh Rabbit from broadside in Richmond, VA.

What better a breakfast than bread and beer?! This simple dish takes barely any time at all and is great with any greasy sausage o...

While it isn't my favorite to make, it sure is my favorite to eat! It's perfect for fall and early winter. When it's a touch cold ...

Start dinner off with a bang! Cinnamon, Ginger, and Cayenne combine to make a lingering 'burns-so-good' feeling, that will have 'e...

If I had to select a dish that defines me as a cook, it would be this one. A mix of flavors all supporting each other. You have th...