The Cook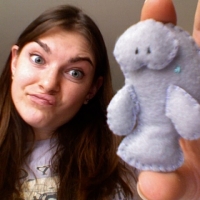 bunnypony
Glen Burnie, MD
Taste-o-Meter
People generally enjoy bunnypony's recipes.
About Me
I recently got married (October 6 2007) -- it is the best thing ever! Anyways, his name is Rob and he is an eating machine. I am having a blast FINALLY cooking us family style meals in our apartment (We did not live together bef
ore Oct 6). I have been on the prowl looking for all kinds of meals I can make for us to chow down on.

I am also a Master's Student at the University of Delaware's Geography and Climatology Department. I am working Full Time and also trying to manage my way through writing my Thesis in my spare time.

I love Jesus, and He loves me! MY CHURCH KICKS ASS! We seriously rock out. ;)

I work out several times a week-- my favorite gym thing: freeweights (No, not a professional, I just dig challenging myself-- it truly is amazing what our bodies are capable of!)
Read more
My Latest Recipes 1
Two of my favorite things: PUMPKIN and OATMEAL COOKIES smashed into one! --and it's VEGAN! THEY ARE SO GOOD-- they taste just like...