The Cook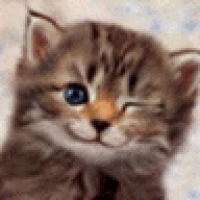 cameo55
Saint Peters, MO
Taste-o-Meter
People LOVE cameo55's recipes.
About Me
I am a 56 year old mother of one, a daughter who is now a Senior at UMSL/St. Louis, MO majoring in international business. I myself enjoy cooking, crafts, sewing, knitting/crocheting, and computers. We have two cats and one dog,
our babies now that my oldest baby has become fairly independent.

In the past I have worked for my parents (retail), have my LPN license, sold real estate, provisioned for MCI/WorldCom, worked in a fabric store, have done work as an orthodontic assistant (temp). Now, I drive a school bus and I love it. Computing has been my hobby for the last 12 years, but now my interests are shifting again...it's back to cooking and the needlearts for me. I still have a mega load of things I want to accomplish before I leave this world and I really need to set some goals here and get them done because none of us are truly certain of what tomorrow may bring. I built my own computer this past year and I'm happy with that, although technology will most certainly leave me standing in the dust unless I make a conscious effort and/or choice to keep up with it; however, I'm not sure I can. It's getting very intense out there in the techie world and I'm finding it rather intimidating these days. I'm not really interested in designing webpages, I would guess that everything one could possibly offer is already out there and some excellent ones at that.

WORST COOKING SCENARIO: Many years ago back in high school I had decided to make a hugh bowl of egg salad. My parents where in Europe on a needlecraft tour (mother owned local yarn shop) and there just wasn't that much left in the house to eat, that a teenager would want anyway. Plus, at that time I wasn't all that interested in the art of cooking.

Anyway, to make a long story short, while the eggs (12) were cooking I fell asleep on the sofa only to be awakened by a series of "not so mini" explosions. I ran to the kitchen and my egg pan was completely dry, no eggs left in the pan except for perhaps a shell or two. I looked up, and all around me, OMG...egg yolk everywhere. Stuck to the ceiling, walls, cabinet's...just about everywhere I looked. It took me about a week to finally get it all cleaned up, needless to say, that never happened again, to me anyway. However, a similiar incident happened to my dad around the same time, only he had burnt the roast....lol. Mom and I returned home from a shopping trip on one particular warm summer day to find smoke billowing out from the windows/doors of the house. My dad was inside, sleeping on that darn sofa...lol. He was angry with us both for leaving him to watch the roast. Thank goodness we got there before the fire department did.
Read more