The Cook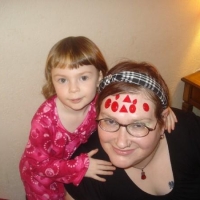 catbot79
Topeka, KS
Taste-o-Meter
People generally enjoy catbot79's recipes.
About Me
I am often hungry and poor; I'm currently on a diet to better manage my diabetes and lose some weight. I have been an ethical vegetarian for 17 years, and although I eat milk and egg products, I also try to eat vegan a fair amount
for environmental and ethical reasons. I have considered starting to eat fish again but am ambivalent about whether or not to actually go through with it - I don't like fish that much, but I do like seafood, and it's good for you, soooo.... yeah. I cook for fun and for functionality; accordingly, I am looking for recipes for everything!; everyday basics; romantic dinners for me & my husband; dishes for special occasions and dinner parties; to impress or to feed and army, or both; &c. I speak a few languages and have traveled a fair amount, and have enjoyed delicious foods from all over the world that I like to replicate at home when I have wanderlust. I am an old punk rock chick, love all things DIY, and really like communal and cooperative cooking.
Read more
My Latest Recipes 2
Tofu Tacos from catbot79 in Topeka, KS.

When I eat tacos, I often like to put fake meat in mine. Problem is, recipe crumbles are not so cheap. However, tofu is only 2 dol...

This is macaroni and cheese for grownups. Not to say that some kids won't eat it, too... my family always put croutons in ours, an...