The Cook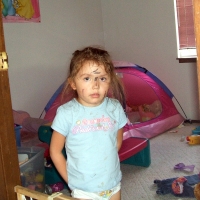 celestialvortex
Las Vegas, NV
Taste-o-Meter
People LOVE celestialvortex's recipes.
About Me
Hi, My name is Christina and I reside in the Desert Southwest with my husband and youngest daughter. I am 52, the mom of 4, 3 girls and 1 boy, grandma of 3, 2 girls and 1 boy. I enjoy spending time with my family and friends, cook
ing, baking, photography and gardening. I have an extensive cookbook collection (around 3000+ books) and it's still growing. I also collect recipes from family and friends, food packages, magazines, the internet and newspapers. I like to read several different recipes for the same thing and then make my own version borrowing from several of the sources. My friends request my meatballs and brownies when we get together. ** My middle daughter and her family relocated to Wyoming the end of June and I'm going through a big depression right now, I miss them so much. All of my adult children and my grandchildren live in different states than me now. I do hope to be relocated to Wyoming by this time next year...
Read more