The Cook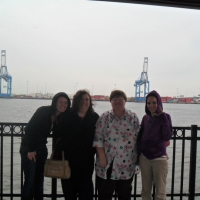 chatombreux
Gloucester City, US
Taste-o-Meter
People LOVE chatombreux's recipes.
About Me
I love cats. I also love recipes and kitchen gadgetry (utensils, shortcut equipment, tough-as-nails non-stick cookware), but, believe it or not, cooking is not my favorite thing. How I can have such fascinations with all things k
itchen without a strong desire to use them is beyond me. My mother, who just passed this December, was a consummate domestic goddess - she simply loved everything involved in homemaking. I'm not a bad cook - I just don't enjoy it like she did. Apparently, though, the love-of-cooking gene found my son because he's been cooking since he was 11 and is the main cook for his family.

If you haven't noticed, I favor recipes with relatively few steps, but with grand flavor. I enjoy eating good food, so try to make sure the recipe will be just that - good! I want it to taste like there was far more effort put into it than there was. Plus, when budgets are tight, I want it to have ingredients most people can afford.

I hope you enjoy the recipes I have found and look forward to seeing the ones you all have to offer as well.
Read more