The Cook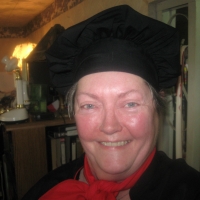 chefelaine
Muskoka, CANA
Taste-o-Meter
People are ADDICTED to chefelaine's recipes!
About Me
Greetings, all. I've been cooking for over 45 years, and love every minute of it.
I love to grow and use herbs in my dishes, as well as cook pretty well anything, and I also love to bake. To me, cooking is not only an art, but a
love and passion that expresses itself in presentation of delicious foods. Healthy and attractive cuisine makes culinary art all worthwhile!
Culinary art is like medicine; it helps heal an aching heart, it soothes the soul, it relieves stress! I even find it makes me feel better when I'm feeling sick, and in the stages of recovery. When I get cooking, I feel much better.
And, like medicine, you can never learn it all! Chefs are always experimenting, trying out new recipes, compiling new recipes, testing, and TASTING!
That's what I love about cooking... the experimentation, the discovery of a new recipe, even if by 'accident', and each experiment leads to more experiments, some leading to success, and some leading to total failure.
But, failure is not disaster in that it leads to success by continually trying, tweaking a recipe, adding this and that, removing other ingredients, and judging from the comments of those to whom you serve your dishes.
:+D
------------------------------------------------------------
Please pay no heed to the average being lower than five; it was five all along until a 'rival' decided to lower my ratings. And since I go more by TASTE than ratings, well-- it really didn't matter to me so much that she did so.
------------------------------------------------------------
There is a group that is especially for beginner /intermediate cooks, whom I hope will join.
It was created to assist others in the 'how-to' aspect of cooking certain dishes, like 'How do you marinate' or 'How do you make chicken cordon bleu' --- This group should be especially helpful to beginner cooks, but certainly anyone, regardless of cooking ability is welcome.

To access it, please go to:

http://www.grouprecipes.com/group/1002

===========================================

There is also another group, created by Lanacountry, called FABULOUS FRUGAL FOODIES....... all members are welcome.

To access it, please go to:

http://www.grouprecipes.com/group/1078
===========================================

And another great group, created by Wynnebaer:
http://www.grouprecipes.com/group/1086

If you like food TRIVIA, this is the group for you!

===========================================

Happy Cooking, everyone :+D
Chef Elaine
Read more
My Latest Recipes 439
Lovely wild Pacific Salmon fillet..... BBQ'd -- with fresh herbs from the garden ............

Lovely Lake Trout.... barbecues to perfection and accompanied by fresh veggies and mushrooms....... a delicious and HEALTHY main d...

Fresh green Bell peppers, filled with rice, onions, and tomatoes…garnished with sliced mushrooms, and mildly spiced, make this...

A fast, economical way to make Shepherd's Pie… delicious, and healthy with the addition of natural wheat bran....

Taken from Reader's Digest "Secrets of Better Cooking"…. I came across this list and decided to share it here, knowing som...

Lean pork loin boneless chops, stuffed with carrots and sweet potato sticks, and bacon-wrapped.... baked to perfection, and served...