The Cook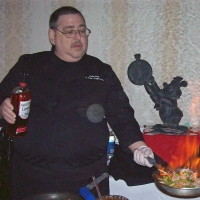 chefgil
Stanardsville, VA
Taste-o-Meter
People generally enjoy chefgil's recipes.
About Me
I have been the Chef at a boutique hotel in Viginia's Blue Ridge for the past 3 years. I am beginning my own catering business. I have been cooking professionally since 1985, but I have cooked since I could stand at the stove.
I
am 57 years old. I get a headache when I hear myself say that. Never thought that I would make it this far.
I married for the first time on 3 July 2008. I could never find a woman dumb enough to put up with me until now. My wife HATES when I say that! Which is probably why I say it. I just love to see her ears get all red and shoot steam out.
My sense of humor has often been my downfall, but I won't let an opportunity for a bit of humor pass by unnoticed, even if it's a tad inappropriate and a bit unusual.
Read more