The Cook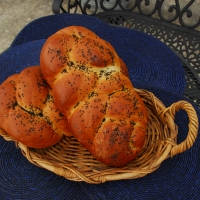 chefjeb
Carthage, MS
Taste-o-Meter
People are ADDICTED to chefjeb's recipes!
About Me
Due to health reasons, I am inactive. Please enjoy the posted recipes and experience the Joy Of The Table!
Before I retired I was a chef, consultant and food safety instructor. Marilyn was also a professional chef, and together w
e owned restaurants and worked as chefs and food service directors. We bake our own bread and love experimenting. We have two Hobart mixers, a 10 qt. and a 20 qt. which makes things easier. One of our restaurants was New Orleans-themed Creole. And we lived in the New Orleans area for about seven years, so we developed a fondness for the city and its rich food heritage. But, we love it all -- Italian, Greek, Southern, you name it, we'll try it. We love healthy eating, but want what we do eat to have a WOW factor. And always something new.
Read more
My Followers
My Latest Recipes 147
Several friends have asked for a guide on how many potatoes to mash for mashed or smashed potatoes. I hope this helps. ...

Challah from chefjeb in Carthage, MS.

A delicious and beautiful Jewish egg bread that can be enhanced with raisins, if you choose, or just a wonderful bread on its own....

Loggers Lunch from chefjeb in Carthage, MS.

In the South before air-conditioning and food in every convenience store, loggers and other workers would stop at rural one-room g...

An old Southern classic that deserves a new look. Great for less than perfect tomatoes during the season, or canned during the win...

Fried chicken livers can be served as an appetizer or main course. Full of goodness and wonderful flavor. ...

Marilyn developed this original recipe in her search for a good healthy slicing sandwich loaf with a smooth crumb. This is it. Enj...
My Groups