The Cook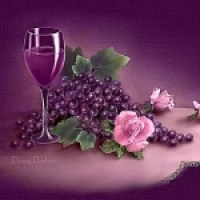 cherylannxo
Santa Nella, CA
Taste-o-Meter
People are ADDICTED to cherylannxo's recipes!
About Me
Hi, my name is Cheryl. I'm (why lie) 54 years young. I love to cook, bake, and can. I have been cooking since I was old enough to look over the sink. I have lived many places here in the US. Got a lot of cooking experience that wa
y. Learned a lot from many friends and have taught many more. I enjoy it here at GR. I have many friends here, and I enjoy sharing the recipes that I have posted and the many more to come. I have one problem, though, Most of the recipes that I have are what they call, "A handful of this, a couple of that, a pinch of something else." It is going to take some deciphering in order to post it.
I do a lot of crafts besides cooking. I do needlepoint, embroidery, beadwork (jewelry and wall hangings), I make wind chimes and whirlygigs, I make soap and candles, Quilting, Right now I am refurbishing my home from one end to the other, painting and doing small repairs. I do a lot of recycling. I love to go to flea markets and yard sales. If there is something that I need or that sparks my interest, I buy it then if it needs apholstering, painting or just needs fixing, I do it. My whole house is furnished and decorated with others peoples hand-me-downs. I do a lot of sewing, I made all of my curtains, and I work in my garden. I some day, want to get involved with clay. And I am writing a cookbook for my kids for Christmas, so my recipes won't be lost when I go......
I have 2 children. Son and daughter both in their early 30's, whom I raised by myself since they were 3 & 5 years old. My son and his wife gave me 3 wonderful grandsons (they love it when Nana cooks). My son was always in the kitchen learning how to cook, and can make the flakiest pie crusts. My daughter is career minded/single/no kids. She is just recently learning how to cook. I am so proud of all of them. Other than that, I am not married, but have a sweety named Alfred. We share cooking. And I have a red Pomeranian, named Sophie, she is my baby now that my kids are grown, and my companion.
Read more
My Followers