The Cook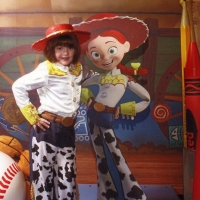 christinem
Worcester, MA
Taste-o-Meter
People are ADDICTED to christinem's recipes!
About Me
A tacky, plastic leg lamp in the midst of a quaint New England Christmas Village...yep, that pretty much sums me up! Well, I don't look that good in fishnets and stilettos, so maybe not! :-) My point is, I'm pretty ecclectic in
my tastes - doesn't have to be fancy...but I like fancy. Healthy is good...but decadence has its place too. Sometimes I'm inspired by the pricy gourmet meal I had on vacation, other times it's my mom's throw together dishes. One day it's a slab of beef, the next day it's tofu. The only constant is that I try to use as many good quality ingredients as possible - local, natural, organic if possible, and as few prepared foods as possible. Oh, the other constant is that not a day goes by that I don't want chocolate.
Read more
My Latest Recipes 118
Inspired by some Apple-Cheddar quick bread recipes, I came up with this bread recipe when I had some pears to use up and no chedda...

Fruity kale salad with a sweet and tangy balsamic dressing, goat cheese and slivered almonds. I like to use the darker Lacinato K...

Steak tips marinated in red wine, braised with onions, garlic and more red wine, then topped with a gremolata - a mixture of garli...

They tell me "Antipasto" means before the meal, but since this IS the meal it's not really before the meal, so it's &quo...

My version of Colcannon, red bliss mashed potatoes (with skins), with kale sautéed in butter and onion, more butter, milk or crea...

Easy but a little bit fancy way to served sliced strawberries and blueberries, or whatever berry mix you have on hand! Off-season...