The Cook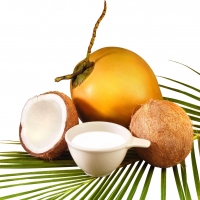 coconutgirl
Camarillo, CA
Taste-o-Meter
People LOVE coconutgirl's recipes.
About Me
My name is Sarah Shilhavy. I'm home educated and a mom-taught and self taught cook. I am also a grandma-taught and self-taught baker and the youngest of 3 kids (2 older brothers). I was born in the Middle East and lived in the Phi
lippines for almost 5 years (my mom is Filipino), and have also lived in different parts of the US. My parents own Tropical Traditions, the first company to import Virgin Coconut Oil from the Philippines to the US. I manage the coconut recipe blog on Tropical Traditions' website: www.freecoconutrecipes.com. I've developed many recipes, some gluten-free, using Coconut Flour.
I love working with Coconut oil, especially since it's a natural energy booster! I run a lot, as well as exercising and horseback riding so knowing what foods will give you a natural boost of energy is always helpful!
Read more