The Cook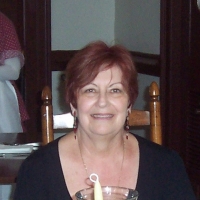 conner909
Southern Calif., CA
Taste-o-Meter
People are ADDICTED to conner909's recipes!
About Me
Disclaimer: Please do not put much stock in the ratings on anyone's recipes, because we have some deranged people on this site who like to low-ball them. Hopefully you will be able to get a good idea of whether you want to try rec
ipes by the ingredients listed.

***************************************************************************
I love to cook, talk, read and swap recipes . I have either made all the recipes I post or indicate the recipes I have not made. I don't rate any recipes unless I actually try them out first. I live in Southern California with my husband of 12 years; we have his and hers children and grandchildren. Cooking "from scratch" is my first love and cooking with booze is my second! I also particularly like recipes that have unusual ingredient combinations. My niece and I recently published a cookbook for our family reunion and my husband did all the illustrations...it was quite a project and very rewarding! Love most all kinds of music from Opera to Country...(I was going to say "Hip Hop" but that would be stretching it!) Eva Cassidy is a fave and I still love American Idol!
Read more