The Cook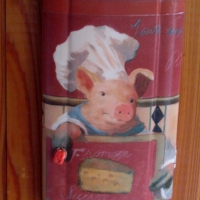 cookcooks
Williston, FL
Taste-o-Meter
People generally enjoy cookcooks's recipes.
About Me
I was born and raised in San Francisco, and am 1/2 Spanish and 1/2 German but never really knew my German mother. I had a Mexican Stepmother for ten years and we ate rice, beans, tortillas, and salsa with or for every meal. It was
a Cinderella situation so I learned to cook Mexican food for the family by age 10. So to me Mexican food is 1st nature.

I now live in a very small town in Florida and the cuisine is nothing like San Francisco. I own over 300 cookbooks but don't buy them any longer because there are recipes for anything you want online. When I moved to Florida I discovered the foods that they eat here are completely different so I learned to cook. I have no fear and will take on extremely difficult dishes without a 2nd thought.

Our idea of a good time is having dinner parties and we love entertaining. I love introducing people to new cuisines and watching them enjoy eating something they have never heard of.

I love a challenge and if I come across a deal for something (anything) I will buy a lot of it and use that opportunity to experiment. I promise never to post a recipe I haven't cooked myself so please feel free to ask me questions about them.

We make our own wines, I do collections for a living and consider cooking my way of relaxing. I also enjoy doing canning, dehydrating, gardening, and several other things.
Read more
My Latest Recipes 4
Rouxbles from cookcooks in Williston, FL.

I always have this in my refrigerator. It is a real labor saver. When you need some roux for a recipe simply shake some out of the...

Hot Pepper Jelly from cookcooks in Williston, FL.

I created this recipe because I couldn't find Hot Pepper Jelly that was actually hot. You will become addicted to this jelly that ...

We wait for asparagus to go on sale every year so we can make this wonderful dish. You don't "need" to serve anything with this ex...

This sauce is wonderful with grilled meats. Just put a little on your for with each bite and you will love it. It keeps wekk in th...