The Cook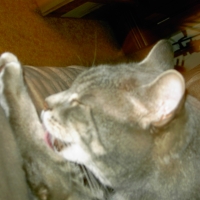 crazycooker
Some, Where
Taste-o-Meter
People LOVE crazycooker's recipes.
About Me
I am an at home mom to my son Trent and married to the best guy in the world (other than my dad lol). Went to culinary arts school but never completed, life kinda got in the way.....thinking about writing my own cookbook and thou
ght this would be a good way to test out recipies to see if people (other than friends and family) really enjoy them. I am one of those cooks who look in their fridge and cabinets and say, "what could I create with that, without having to run to the store..." What I mean by "unorthodox" is I try to recreate recipies using the things I have around me....if a recipie calls for anchovies and I have none what could I use instead to get the same flavor?........thus leading the recipie to become unorthodox :o) I enjoy to create and wow, so I hope you enjoy and are wowed!
Read more