The Cook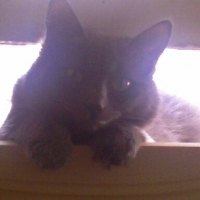 crazycookinchick
Hartford, CT
Taste-o-Meter
People LOVE crazycookinchick's recipes.
About Me
I LOOOOVE to cook. I cruise the net, pa-rouse Food Network channel to find new creations, but also learn new techniques or valuable pearls about different cultures/foods/cooking techniques. I try very hard to keep it healthy and
currently am trying to discover how to convert a bread/muffin recipe to whole wheat flour without getting that rubbery result.
I'm open to trying new things. My husband is Spanish so I've become acquainted with achiote, fried rice, plantains, yucca, pernil, and pollo asado.
Total wine and coffee connoisseur. I've tried many things and thus only true failure was an attempt at finding this fabulous coq-au-vin recipe my Mom had many years ago from a Delmonte cookbook. So I discovered we do not like french wine.
I swear there is NOTHING like a scrumptous, well flavorfully balanced meal to enjoy, ONLY to be backed up by a ROCKIN cold beer or EXCEPTIONALLY well paired wine. Seriously I LIVE for these moments!
Read more
My Followers