The Cook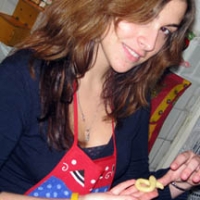 cuddlezxoxo
Miami, FL
Taste-o-Meter
People generally enjoy cuddlezxoxo's recipes.
About Me
I've been studying in Rome for about a year, and plan to be here for at least 2 more. I really enjoy cooking and baking in general. My mother stopped cooking when I was about 8, but my Italian grandmother has always cooked and b
aked the most wonderful things(not necessarily all Italian food); I aspire to be like her! Being in Italy, it's hard to find many ingredients that U.S. recipes call for, and it is also very easy to confuse the measurements of the ingredients- but I don't give up easily! If I have my mind set on a recipe, I have been known to hunt down the ingredients and their italian counterparts (exceptions being jell-o instant pudding/pie mix and cheddar cheese-which Italians just haven't discovered)! I'm very into learning from scratch recipes right now, because I want to have a base for eventually creating my own stuff!

For anybody who's having a problem with ingredient measurements-here's a great site I've found quite useful: http://www.gourmetsleuth.com/cookingconversions.asp?Action=find.
Read more
My Latest Recipes 3
If a recipe calls for a can of CONDENSED Cream of Mushroom soup and it's either not available or you prefer a healthier alternativ...

This is my grandmother's classic meatball recipe. It is authentic Pugliesse. Irresistable as they are or in homemade tomato sauc...

This pasta dish is quick and easy, but you wouldn't know it. If you're tired of pasta with store-bought sauces, this is something...