The Cook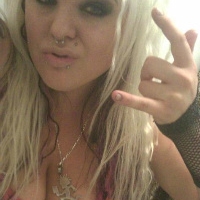 deadgirlsuperstar
Wilmington, DE
Taste-o-Meter
People generally enjoy deadgirlsuperstar's recipes.
About Me
Found this site not too long ago and I absolutely love it! Great atmosphere and awesome recipes. I will be posting some soon- just need to go back and make measurements... because most of my stuff is eyed out.
Anyways, I am alm
ost 22, and have a wonderful family, My boyfriend Chris and our two daughters; Jensen (3) and Skyler (1). I am a stay at home mom And aside from my kids and shopping I am usually watching food network, on here, or in the kitchen! I am strictly meat, potatoes, grains and dairy- Never liked any fruits or veg's! I love to cook for every and anyone who comes over!
Read more
My Latest Recipes 2
I use the base of this for another recipe and tweaked it and ended up with this soup... I am going to try one soon with the same b...

Chicken Quesadillas from deadgirlsuperstar in Wilmington, DE.

I don't usually cook by measuring so there aren't going to be any measurments... I make these for my family and basically any fri...