The Cook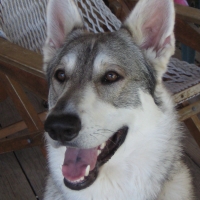 debntim
Outer Banks, NC
Taste-o-Meter
People are ADDICTED to debntim's recipes!
About Me
I was raised in southwestern Virginia ~ yummy kitchen aromas are part of my memory as far back as I can remember. My father was the chief baker on his ship in the US Navy and was always throwing together melt-in-your-mouth pastri
es; my mother was a southern cook who celebrated every single possible holiday known to man or woman with made-from-scratch treats ~ she was always a room mother when I was a girl and used her artistic creativity to invent all kinds of surprises for us. My grandmother was THE southern cook of the old time ~ from made from scratch buttermilk biscuits, to southern fried chicken right off the farm and fried catfish that my uncle caught and brought in freshly skinned for her to fry to buttermilk custard pie. How could I lose? From birth, I was immersed in a variety of food prep ~ all fresh, all homemade, and all to die for! Yummm! When I sit like this and collect my 'cooking thoughts' it's no wonder to me that my first husband was a restauranteur. We owned and operated a southern style restaurant and catering business for more than fifteen years. My 'new' husband of five years is also a master in the kitchen and on the grill. His marinades and rubs are patentable, and, I promise, if you ever ate his charcoal grilled chicken, or anything else for that matter, you'd be ruined for anything else! We are both southern cooks, born and bred, and have to force ourselves to stick to recipes when we're creating ~ a pinch of this, a bit of that, and, oh, wouldn't this be good . . .is pretty much our kitchen mantra.
My husband and I both have Cherokee heritage which we love to embrace ~ we go to powwows; I 'flavor' my art with Cherokee nuances. Besides cooking, baking, and eating, I love to read, make jewelry, make hand thrown pottery, write, explore new foods, research family genealogy, walk on the beach, and hang out with my husband and our three dogs when I'm not teaching school which is my lifelong passion / ministry.
------Please check out and join my group, 'Kids Stuff' ~ it's for kids, simple as that.
Read more