The Cook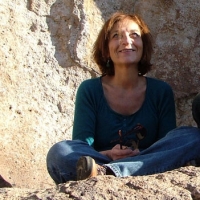 desertgypsy
Santa Clara, NM
Taste-o-Meter
People LOVE desertgypsy's recipes.
About Me
My food background is the restaurant and catering business for the past twenty-five years. Cooking is a passion and a creative expression in my life.
The camaraderie of friends gathered in my kitchen at home, helping prepare di
nner or just keeping me company then sharing a simple feast, well, there is nothing better!

My childhood was blessed with many wonderful cooks that let me participate in their preparing the meal; sometimes a piece of dough or adding the capers to the steak tartare, the smallest things left a warm lasting impression.

I said my farewells to the restaurant & catering business a few years ago back east, packed-up my kitchen and moved west to the Land of Enchantment, New Mexico. I found work as chef and kitchen manager at a beautiful bed & breakfast, Bear Mountain Lodge. I have a wonderful open kitchen which I encourage guests to enter and upon occasion tie an apron around a few and help prep, chat and share recipes.

I have completed the text of a cookbook which came from the encouragement of guests and is called "Simple Feasts". The photographs are my next challenge and hopefully it will go to press by midsummer.
My food philosophy is that cooking should be fun; delicious food need not be difficult to prepare, and never be afraid to be creative!


Read more