The Cook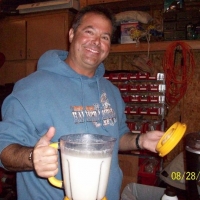 duboo
North Dakota
Taste-o-Meter
People generally enjoy duboo's recipes.
About Me
I'm a firm believe that my oak table is what has made our family what it is. With twin girls in separate colleges, both over 2 hours away, they come home very often to have home cooked meals. Most weekends we are not only fee
ding them, but their friends and boyfriends as well, and we love every minute of it.

I've always loved to cook, but have never had a lot of time for it until recently and now I'm learning from great cooks every single day. My remote location makes it hard to follow recipes exactly. Fresh ingredients, outside just ordinary meats and produce, just aren't an option many times. So if I make your recipe, please don't be offended if I don't make it exactly as written. Also, if you are making my recipes, you can't offend me by making substitutions to suit your pantry or tastes. I taste constantly when cooking and add what I feel it needs as I go. Comfort foods are my staple.
Read more