The Cook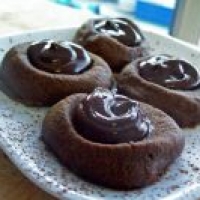 earthwatersunwind
San Diego, CA
Taste-o-Meter
People LOVE earthwatersunwind's recipes.
About Me
I love to cook--I like to take delicious-sounding recipes and turn them healthy--low fat, big flavor. I also have to make them appetizing to three picky boys--my two toddlers and husband. I love to cook, but baking is my passion
--especially homemade sandwich bread, and sweets like brownies and pie. (The bread is whole-grain and low fat...the baked goods are not!!) I believe you should eat healthy and take care of yourself, but if you really want dessert, you should have something amazing--no knock-offs, storebought pies, or fake cheesecake. I am really trying to get my kids into the kitchen with me as well, and am always looking for healthy and fun recipes they can help with. Outside the kitchen, I love to run, work out at the gym, work in my tiny organic garden, and am working on becoming a certified yoga teacher. I also have a food blog, http://www.mediocrechocolate.blogspot.com, chronicling my experiments in the kitchen. All of my recipes are available there, as well as many others. I am a proud member of the Daring Bakers!
Read more