The Cook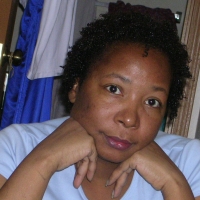 ebonyeyedenigma
Seattle, WA
Taste-o-Meter
People are ADDICTED to ebonyeyedenigma's recipes!
About Me
My mother use to tell me I did not know what I was doing everytime I was in the kitchen, so I refused to cook for years, until I had moved out and was on my own. Living at home was my induction to cooking and I loathed being in t
he kitchen growing up, because I was constantly being demoralized and told I did not know how to cook - when in fact I did.



I moved downtown in Seattle and began cooking, and everyone knew whose place the smells were coming from and I constantly had neighbors knocking on my door asking me what I was cooking, and of course I would invite them in to share my food with me. It was nice, a vindication of sorts that my mum was wrong and that I could INDEED cook!~!!



I have an twelve year old, I call him my Wee One, after my divorce from his Da (who is Argentinian) it was always us, but I found myself experimenting with different foods and making things that I knew he would never taste if it was not for me, so he has a very eclectic tongue and will try just about anything.



My mother use to make soups with a pressure cooker, or she would can things, but she cooked EVERYTHING on high and overcooked everything. My twin would cook all the time, she took the same cooking classes that I did in school, but also took a chef class in High School; to this day she hates cooking - go figure.



I use to live every day to watch Food Network and other cooking shows on PBS, to the point where I realized I was taping the shows to watch over and over again and then I had to stop the MADNESS and turn off cable. Ha, ha, ha



If you knew how many cookbooks I own... Costco sees me coming, I have to hide them from my Wee One, he thinks when I purchase a
cookbook from Costco he is entitled to a 49.00 video game...



I am a Black, Indian, Irish, and German; my own little melting pot, I am can be quite animated, childlike and gregarious at times. I enjoy laughing, as well as making others laugh. I can be stubborn, am very
determined, and independent. I like to entertain and have small dinner parties, great music, getting ideas for new recipes, enjoying life and having fun along the way. I am a child of God, a divorced mom with one child, and love to eat anything hot or spicy.


I enjoy the chemistry and mystery of food and I am always curious about how others taste buds experience my recipes, and like to kick up my recipes so that the tastebuds dance from having multiple food orgasms.



If I see a recipe I will change it to my own cooking style, generally before ever tasting it, I go by smells and am making changes adding more flavors or by getting rid of others.


To me food is all about love, when you cook something you are putting a part of yourself in that meal and showing others with your cooking that you love them; it is about celebration, family, and friends. Food brings people together that you love and it appeals to all their senses when they eat.



Thank you for reading my short story...Errrrrrrrrrr, long story...
Read more
My Followers