The Cook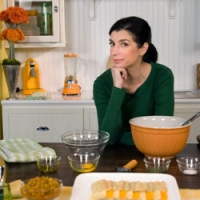 elanaspantry
Boulder, CO
Taste-o-Meter
People LOVE elanaspantry's recipes.
About Me
Elana's Pantry is the creation of gluten-free guru and wellness expert Elana Amsterdam. Elana shares weekly recipes, ingredient selection, food purchasing, and preparation tips with the readers of her book, articles and visitors t
o her website, www.elanaspantry.com (1 million page views per month).
She has written for publications including Shape Magazine, Parents Magazine, Delicious Living and Natural Solutions, and has been featured in a variety of publications including Crain's New York Business, Fortune Magazine and The Wall Street Journal, and has appeared on CNN and MSNBC.
Her book, The Gluten-Free Almond Flour Cookbook, was published by Random House in July 2009. The book is now in its 5th printing just over a year after its release, and was named one of the "Best Cookbooks of the year" by The Denver Post.
Her forthcoming book, Gluten Free Cupcakes (Random House), will be published in summer 2011.
Elana lives in Boulder, Colorado with her husband, 2 boys (chefs in training), 2 bunnies and 6 chickens.
Read more