The Cook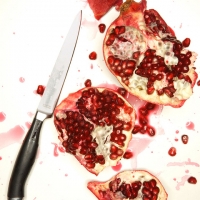 emilydrew
Pittsburgh, PA
Taste-o-Meter
People generally enjoy emilydrew's recipes.
About Me
I am a legal secretary with an English degree. While a little unconventional, I am known throughout my group of friends for my generosity and wit. I also tend to trust way too easy, but that's a part of who I am. I am a twin an
d an aunt to twins. I love to learn new things everyday and putting smiles on people's faces.
Read more
My Latest Recipes 5
A favorite of my husband's, updated a little. From www.cookingbytheseatofmypants.com...

One of my favorite dishes, this one is taken from from a restaurant called Chair 8. Totally worth the extra steps!...

Candied apples for grown-ups. For a larger group, buy a larger round of brie and multiply the sauce ingredients. If you'd like, su...

The elements of a classic Greek salad and a chicken souvlaki sandwich combine in this piquant dish. You can also use lamb in place...

This dish shows the importance of using good ingredients, as there aren't many. The first time I tasted this, I fell in love. It...