The Cook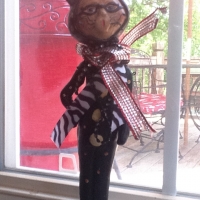 epicuriouslysheryl
St. Charles, Missouri
Taste-o-Meter
epicuriouslysheryl's recipes haven't caught on yet
About Me
I'm a wife and mom to 3 grown kids, and Mimi to 3 year old Nathan!
I'm also a currently unemployed IT professional with slot of extra time on my hands! I love to get creative in the kitchen. Generally in the fall and winter mon
ths...although my new-found freedom has given me time to be a 'pretend' summer chef as well!
Read more
My Latest Recipes 1
Baked Chicken Salad Pie from EpicuriouslySheryl in St. Charles, Missouri.

Every time I make this there isn't a single bite left! I serve it with a leafy green salad and my own lemon-chive vinaigrette....
My Groups