The Cook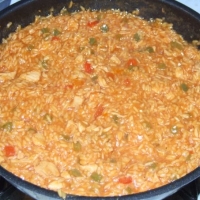 extremecooking
Woonsocket, RI
Taste-o-Meter
People LOVE extremecooking's recipes.
About Me
My Favorite type of food is Mexican and Cuban mainly Spanish foods.
This is also my style of cooking. My parents are huge cooks and taught me how to cook. I have a lot of Mexican recipes I enjoy to cook. I wont cook it if its no
t Authentic. My Mother showed me the secret to flan. I would have to say my flan recipe is up there with the best. I have cooked it more times then i can count. Did i mention i love flan. So I love to cook a lot of other foods and always trying new ideas. Thats all for now will update more...
I will be adding more recipes soon.

Favorite dish: carne asada
Favorite Soda: Orange soda
Favorite fruit: strawberry's
LOves: Mexican Food!


Read more