The Cook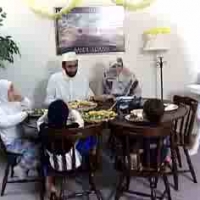 falafel_fanatic
Bardstown, KY
Taste-o-Meter
People are ADDICTED to falafel_fanatic's recipes!
About Me
Hello fellow foodigans! I enjoy cooking and my husband enjoys eating! Geat combination, huh? Hehehehe....Food is my fine pleasure in life amongst my relationship with God and my family. I love to gather with loved ones and enjoy
fine food and especially desserts! Might I say.......pass the chocolate cupcakes????? I love chocolate, I love Indian food, I love cheese, I love Arabic and Asian food and I am an ovo-lacto vegetarian. But, I still eat exactly what I like and substitute delicious and healthy veggies for the meat! Food is divine and I simply can't resist allowing my tastebuds to go wild with exotic flavors and spices! Mmmmm......mmmmmm.......good! My top five favorite foods are: 1. Falafel, 2. Aloo Paratha, 3. Vegetable Pakoras, 4. Deep Dish Vegetable Pizza, 5. Palak Paneer with Peas Pulao and Yogurt I am a bread fanatic and I addicted to breads whether it be sweet, flaky, buttery, salty, garlicky, I am addicted to bread. Need I say more? My husband is from a different country than me, so I am trying to experiment in the kitchen with foods from his native country.....the kids find the foods a little too spicy so I am open to new ideas on turning down the heat for little tastebuds. My husband and children are not vegetarian so I still have to cook a small quantity of poultry products at home. Anyway, I enjoy food of all sorts and strive my best to create vegetarian "everything"! :-)
Read more
My Latest Recipes 98
These are Asian style fried donuts. Coated in sugar and simple irresistible with warm tea, milk, or juice. Great for adults and ch...

Curried Couscous from falafel_fanatic in Bardstown, KY.

A great dish! I love this in the winter! Enjoy it!...

This is a blueberry cake and it is very blue when you micro-bake it. Kids love it because of the color! Not for people who are not...

Plantain Chips from falafel_fanatic in Bardstown, KY.

A nice snack! It is great for a nice summer treat! I like mine with a fresh glass of iced tea or pink lemonade!...

This is a delicious apple pie served with a yummy topping of your choice. Enjoy it! It is sure to please the crowd!...

This is a great recipe for brunch! If you have leftover vegetables this is a great way to replenish them for a new meal! You will ...