The Cook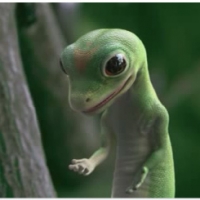 geckofiend
Columbus, OH
Taste-o-Meter
People LOVE geckofiend's recipes.
About Me
I'm a software architect/manager by trade, chef by inclination. For most of my life food was something I consumed, only within the past few years has it been something I created. My dream is to someday own a brew pub, serving cr
eole food with live blues bands for entertainment.
Read more
My Followers
My Latest Recipes 51
This is the way my mom always made chicken salad. It's a little different than most other chicken salads I've tried and it's by f...

It's hard to describe, like a cross between pastitsio and moussaka (the best of both, I think), a little weird at first but defi...

From Dave DeWitt: Do not peel the peaches. The Chipotle chile adds a nice hint of heat and smoke to this spectacular way to end a ...

Another from the Hot Sauce Blog that i thought looked good. "If your looking for the perfect super bowl snack this is it, I d...

Apparently giving credit to the source of this recipe is claiming it as my own so I'm pulling it. I put it here and gave them cre...