The Cook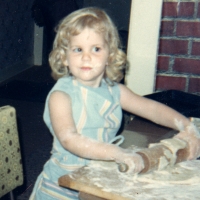 gemmabean
Lancaster, VA
Taste-o-Meter
People generally enjoy gemmabean's recipes.
About Me
I am looking for a healthier way to eat. I don't wanna count calories, carbs, points or bites. I'm currently a big fan of Dr. Gillian McKeith, and I hope to have some McKeith-friendly recipes posted soon. I don't wanna ever be on
a diet again. I wannna eat what I love and love what I eat. I'm a fan of Gordon, Jamie, Anthony (I love how he busts on Rachael! lol) and Giada.----- Oh! Oh! Oh! And I LOVE Trader Joe's!!! Ahhhh, the wonderfully priced organic produce... -----Recent food discovery: Creme Fraiche, used in a recipe of Giada's with pasta, and thyme - to DIE for, but so not healthy - I will only make it once a year.-----I am in the process of putting together a family cookbook with Conner909 and we are having a ball digging up some of the old family favorites! -----The photo is me baking at age three.
Read more
My Latest Recipes 8
There's chocolate in this chili! Yes, I said chocolate. Who WOULDN'T like it??...

This is a Weight Watcher recipe - but don't be fooled - it's wonderful!...

I'm always looking for something new to do with boneless, skinless chicken breasts. You can pretty much add anything you like to c...

This is an incredibly quick, healthy soup with a kick and, of course, cilantro....

A bright and lovely side dish, or main dish if you prefer....

Yummy and quick and healthy! And cilantro, what else could you want? Oh and husbands eat it!...
My Groups