The Cook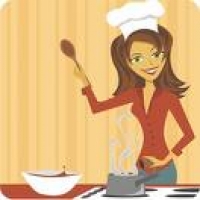 gindot
Temecula, CA
Taste-o-Meter
People LOVE gindot's recipes.
About Me
Although I am a vegetarian, I love to cook just about anything. My family eats meat, so there really is no way around having to prepare dishes with meat. Cooking is one of my favorite things to do. If I am having trouble sleeping,
you will find me in the kitchen creating something.

UPDATE: It is September 12, 2008 and I have stopped the vegetarian way of eating. I have been diagnosed with a disease that is eating away at my brain. The doctors have told me that I need more protein to help myself from getting worse. As it is, walking is very difficult for me, I have to use a walker. I get real bad dizzy spells and have to lay down until they pass. Since soy gives me a migraine and so do tree nuts, I had to start eating meat again. I don't like it very much and I have to hide the flavor. I don't eat chicken at all, I can't stomach it. My cooking options are more open these days so I have been trying all sorts of recipes.

I spend a lot of time now trying new recipes and creating great dishes. I hope to be able to pass along what I make. Lately I have been having a blast making original pies out of the seasonal fruit.
Read more